BY JASON SCHENKER, PRESIDENT OF PRESTIGE ECONOMICS, CHAIRMAN OF THE FUTURIST INSTITUTE®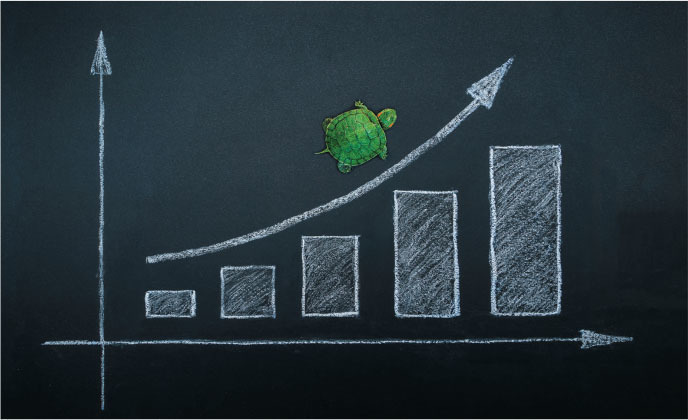 The economic outlook for the end of 2023 is mixed. Global growth data has weakened, while data in the United States has remained resilient. Global GDP growth and manufacturing have slowed. But the U.S. labor market has been relatively resilient even though U.S. manufacturing has slowed.
The U.S. economy continues to find support in consumption—especially services consumption, which is likely an extension of "revenge consumption" in the aftermath of COVID. Will this outlook continue, wherein U.S. growth, jobs and financial markets remain on more solid footing than foreign economies, or will recession come home to roost in the wake of so many interest rate increases?
Manufacturing weakness
Manufacturing is normally a leading indicator of economic growth. Even though manufacturing is a small percentage of the economy and the labor market in most economies (especially in the U.S. and Eurozone), it is a capitalintensive industry and, as such, tends to lead other sectors. There have been significant negative data through the first half of 2023, including contractions in the aggregate global manufacturing series I use, which is comprised of U.S., Chinese and Eurozone data. Aside from this slowing manufacturing data, which has been accompanied by contractions in U.S. manufacturing activity, global GDP growth data have been weaker than in 2022—and foreign growth data are much weaker than U.S. GDP reports.
The war on inflation
Inflation presents a threat to economic stability and long-term growth potential. After all, most governments run deficits and have large debt-to-GDP ratios. So, if inflation remained high, long-term interest rates would rise. This would necessitate economies, including the United States, to allocate more of the government budget to servicing the national debt. This would reduce the available government funds for defense and non-defense spending, reducing the government contribution to GDP. Furthermore, it might even require an increase in taxes to cover the cost of higher interest payments on such a large amount of debt. This is why killing inflation is such an important bipartisan or nonpartisan issue. Because if inflation persists, we all lose—individuals and businesses throughout the economy, regardless of party affiliation.
Currently, inflation remains elevated, and core inflation remains above total consumer inflation, which is worrisome. Nevertheless, there has been some significant progress in reining in U.S. inflation over the past year. Year-onyear Total CPI consumer inflation fell sharply from +9.1% in June 2022 to just +3.0% in June 2023. Unfortunately, Core CPI, which excludes food and energy, has not fallen nearly as much. And Core consumer inflation measures are more important for Fed policymaking. This is why, if Core CPI remains elevated, the Fed may keep interest rates high, even if year-on-year Total CPI continues approaching the Fed's 2% target.
While consumer inflation is most critical for Fed policy, other measures of inflation offer insights into the direction of future inflation rates. One of those is the PPI producer index. It's also a series that's very important for the material handling industry, and its inflation rates fell more dramatically in the year following June 2022 highs than the total CPI.
The year-on-year Total PPI producer inflation rate was close to a peak this cycle in June 2022 at +11.2%. But by June 2023, it was up only +0.1% year-on-year. This means that while producer prices rose sharply in early 2022, they were almost unchanged in June 2023 from the prices in June 2022. Meanwhile, Goods PPI producer inflation, which is an important measure for material handling businesses, reflected an even greater easing of inflationary pressures. While Goods PPI was up +17.9% year-on-year in June 2022, it was actually down -4.4% year-on-year in June 2023. What a difference a year makes!
Click here to read the full article.
LITEHEAVY/SHUTTERSTOCK.COM